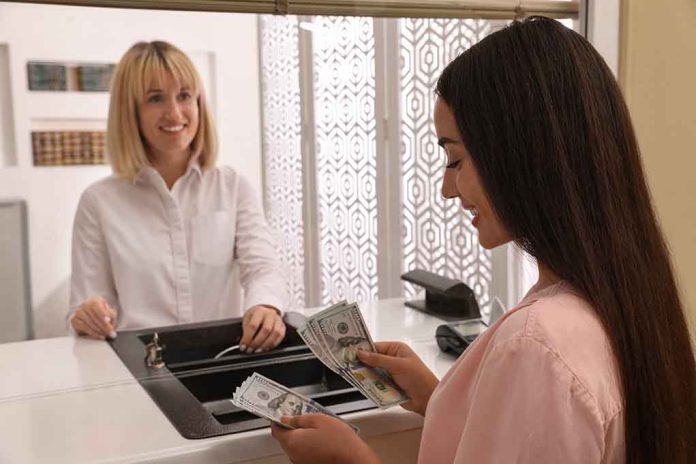 What Type Of Banking Account Is Right For You? This Guide Will Point You In The Right Direction
(RepublicanReport.org) – Many people use banks as a safe place to manage their money. These days, it's possible to find both local and online banks offering a wide selection of account types to help fit nearly any need. Checking, savings, certificates of deposit and money market accounts are the most common types you'll find at most institutions. They all have different purposes, though, so it's important to know which account type will best serve a given need.
Checking
Checking accounts are by far the most popular type that people sign up for, whether it's for business or personal needs. Users can write checks against the balance to pay bills or other expenses. The good thing is these types of accounts are flexible; banks often offer several types to fit different lifestyle needs such as those for students, seniors or even children to help them learn the value of money. You can even find accounts that offer interest.
Account-holders also typically get a free debit card to use in place of checks and the ability to manage their accounts online. However, not all are created equal. Be sure to read the fine print in case there are any extra fees or requirements to meet.
Savings
Savings accounts are widely used to simply put money aside, whether as a safeguard for rainy day expenses or for a specific purpose, such as saving for a vacation. Unlike checking accounts, they don't typically come with a debit card and many require a minimum balance or a monthly maintenance fee. There are free savings accounts, but they're often low- or no-interest-bearing types. However, there are some high-yield types available if you're looking to get the most bang for your buck. One thing to note about savings accounts, in general, is that many banks restrict the number of withdrawals, so keep this in mind.
Certificate of Deposit
Those looking to put money away with no intentions of touching it for a length of time may wish to consider a certificate of deposit account, also known as a CD. Each has a minimum period the money must remain, called a maturity term, but it comes with the added bonus of gaining interest while it's locked up. The maturity terms vary but typically range from about month to more than 10 years. The downside is that should you need to withdraw the funds before the end of its term, there's often a withdrawal penalty. Some banks do offer no-penalty withdrawals, so be sure to look into this when selecting an account.
Money Market
A money market account is essentially like combining your savings and checking accounts. It typically requires a minimum opening deposit as well as a minimum monthly balance and limit the number of withdrawals per month. However, because it combines the function of a checking and savings account, you'll likely receive checks and a debit card to access your funds. Most money market accounts are interest-bearing, at rates often higher than a regular checking or savings.
The type of account you sign up for should reflect your needs and preferences when it comes to features. If you're looking to save on fees, online banks tend to be better in that regard. Just make sure whatever institution you choose for your banking needs, it's FDIC insured and reputable.
Copyright 2022, RepublicanReport.org