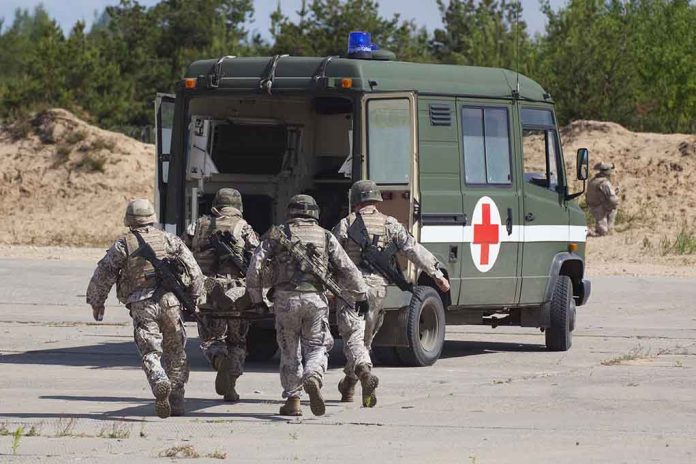 (RepublicanReport.org) – The Purple Heart is the oldest military decoration in the history of the United States armed forces. George Washington came up with the distinction in 1782; it was initially called the Badge of Military Merit and became the Purple Heart in 1927. The military awards the honor to service members who suffer wounds or die in the line of duty.
Now, there's some controversy with several military operatives who allegedly should receive Purple Hearts but aren't getting them.
US Soldiers Injured in Iran Denied Purple Hearts
On January 8, 2020, a small crew of military operatives had to defend Iraq's Al Asad Air Base following the US assassination of Iranian General Qasem Soleimani. Iran attacked the base with 11 1,600-pound missiles, causing devastation on the ground. The missile attack was the biggest against American forces to date. While there were no deaths, a number of the task force's members suffered traumatic brain injuries.
Speaking to CBS News, Platoon Sergeant Daine Kvasager (now 31) related his experiences that day and talked about the damage that remains. Kvasager said he's a different person since he sustained his brain injury. He suffers from persistent headaches, memory loss, and problems with vision and hearing. He used to oversee operations using armed drones but can no longer do this job.
Despite the tremendous sacrifice by Kvasager and dozens of his colleagues, many have not received Purple Hearts made that fateful day. Captain Geoffrey Hansen, one of the task force leaders that day, believes every operative who defended the airbase meets the requirements to receive the distinction.
After leaders decided to honor only 23 of the 56 soldiers left with traumatic brain injuries following the event, Colonel Gregory Fix launched an appeal. In response, the Department of Defense (DOD) said a diagnosis of a traumatic brain injury does not automatically entitle anyone to a Purple Heart.
Why it Matters
The Purple Heart is important, first and foremost, because it's a time-honored way of giving thanks to service members who put life and limb on the line for the benefit of the nation. However, that's not the only reason it's a coveted distinction. Recipients also get boosted veteran benefits.
For example, a Purple Heart veteran automatically enjoys an upgrade to medical priority group 3 (of a total of 8) from the Veterans Association. This upgrade means they don't have to make copayments with the VA for hospitalization or medical care. There are also benefits concerning home loans and federal hiring preferences.
Copyright 2021, RepublicanReport.org