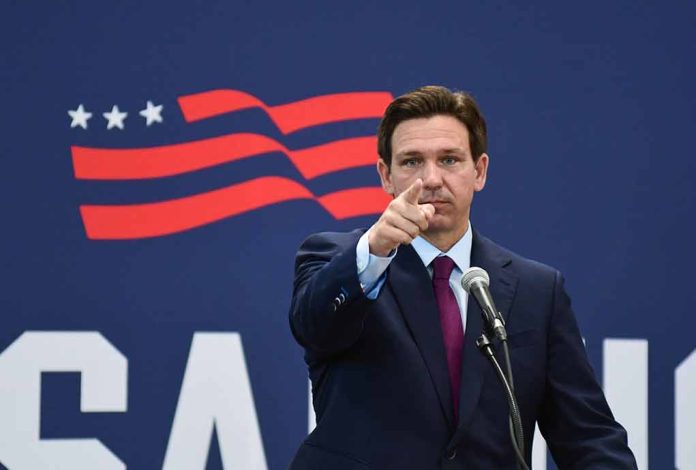 (RepublicanReport.org) – Former President Donald Trump recently sat down with Kristen Welker in her debut interview for "Meet the Press." The pair discussed the biggest issues surrounding him and the 2024 election. The MAGA leader took credit for the fall of Roe v. Wade before criticizing Florida Gov. Ron DeSantis (R) for enacting the "terrible" heartbeat law in his state.
Walker attempted throughout their interview to get Trump's specific stance on abortions, but the former president seemed more focused on discussing others' views. He called Democrats "radicals" who want to push abortions all the way to the last month, claiming some even kill babies immediately after they're naturally born. He also noted, however, that 92% of Democrats don't agree with terminating pregnancies "after a certain time."
Trump wouldn't say whether he would be willing to sign federal abortion legislation, noting he didn't care if legislation on abortions came at the state or federal level, and he also refused to answer whether he would sign a ban at 15 weeks. Instead, he promised only that lawmakers would suddenly all agree on the proper time frame for abortions once he came into office and sat everyone down for negotiations. What that window would look like, specifically, Trump couldn't say. He did state that he disagreed with DeSantis' abortion ban at six weeks, calling it a "terrible mistake."
DeSantis slammed Trump's statement for criticizing his belief in "protecting babies with heartbeats" and said he was proud of the legislation he signed into state law. He added that Iowa — the first state scheduled to hold a Republican presidential primary caucus in 2024 — had similar laws on its books, implying the former president could be hurting himself by caving in such a way to the Left.
Some Conservatives, such as Representative Mike Kelly (R-PA), who introduced HR 175, the Heartbeat Protection Act of 2023 in January, believe all fetuses with detectable heartbeats have a right to life. According to a recent Gallup poll, roughly 66% of Republicans believe in at least some form of restriction on the controversial procedure.
Copyright 2023, RepublicanReport.org