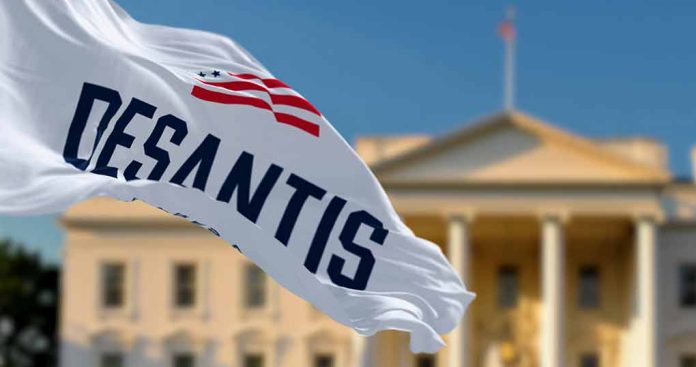 (RepublicanReport.org) – Colony Ridge is described as a sprawling settlement located north of Houston, Texas, created by land developer William Trey Harris. As the owner of the land, Mr. Harris sells pieces of his parcel to those who can afford it. The problem many people have with that is who he's selling the land to and what the development is becoming — a city. The Daily Wire reported about 50,000 to 75,000 people are living there and the outlet claims it's full of illegal immigrants.
On September 21, Florida Governor Ron DeSantis addressed the development on social media, saying it is appalling that "thousands of illegal immigrants who have broken our nation's laws" have been allowed to purchase land in the United States and start a community. He said America's "national sovereignty is at stake" and he vowed to end it if he wins the White House. However, that prospect for 2024 seems unlikely.
A recent CNN New Hampshire Primary poll put DeSantis in fifth for the GOP nomination for president in 2024. According to the survey, the governor was bested by former President Donald Trump, businessman Vivek Ramaswamy, former New Jersey Governor Chris Christie, and former South Carolina Governor Nikki Haley.
As for Colony Ridge, the Daily Wire reported it currently spans about 60 square miles, about the size of the nation's capital. The outlet sent a helicopter over the properties to assess the situation and found trailers falling apart, trash all over the place, unfinished homes, and many places that appeared to not have running water. DeSantis said he wants to know why leadership is allowing this to occur, criticizing the Biden administration as "weak" and "spineless."
Meanwhile, Harris said he doesn't advertise his land outside the United States, claiming that selling his land to noncitizens is not illegal. The developer also pushed back on the reporting that the area is the "largest illegal alien settlement" in the state.
Copyright 2023, RepublicanReport.org