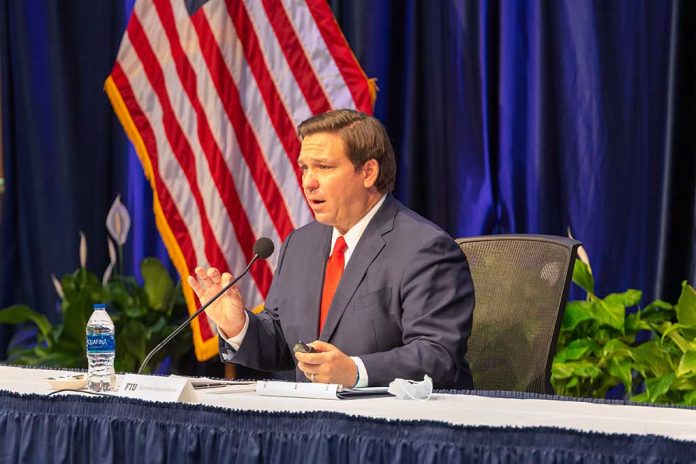 (RepublicanReport.org) – Florida Governor Ron DeSantis (R) has had an answer to just about every one of Biden's problems this year. As ships lined up outside ports in California, DeSantis offered his own ports to help offload shipping containers to relieve supply chain delays. Now, as police departments force officers to either receive the COVID-19 vaccination or leave their job, DeSantis is offering hefty sign-on bonuses to those who want to continue their careers in the Sunshine State.
On Sunday, October 24, Governor DeSantis spoke with Fox News Maria Bartiromo on "Sunday Morning Future" about recruiting out-of-state law enforcement. He said his state legislature is working on a bill to provide officers who move to Florida with a $5,000 sign-on bonus. These officers may desire to move due to vaccine mandates, political climates, or a myriad of other reasons. He assured officers that Florida would offer them better treatment.
DeSantis explained more of his reasoning for the move to Tucker Carlson:
1. Your livelihood should not be dependent upon whether you get a COVID shot. This is a personal decision.
2. The Biden Vaccine Mandate is unconstitutional, and we have a responsibility to fight back as a state.
3. Vaccine mandates are bad for the economy. pic.twitter.com/lGDzO5tWau

— Ron DeSantis (@GovRonDeSantis) October 25, 2021
DeSantis has prioritized his citizen's freedom above all else the past two years, bringing him praise from many Americans. His state was also one of the first to open up monoclonal antibody stations, a great treatment to shorten COVID-19 infections. All in all, DeSantis has proven time and again he's willing to do what it takes to ensure his state prospers and his citizens are free to make their own decisions.
Copyright 2021, RepublicanReport.org