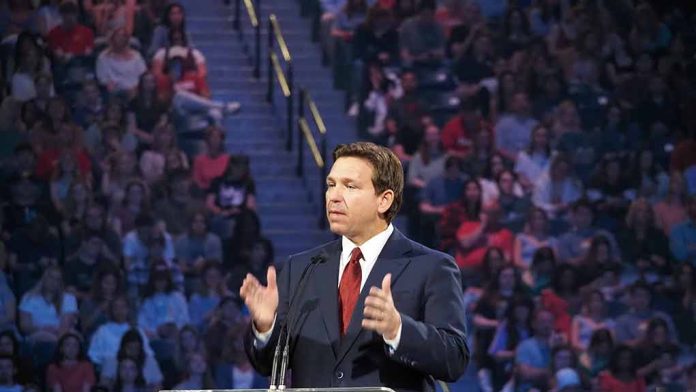 (RepublicanReport.org) – According to ZipRecruiter, police officers in Illinois earn nearly $50,000 per year, whereas those same law enforcement members earn just under $45,000 over that same time period. Both salaries fall below the national average for the job, but Florida Governor Ron DeSantis (R) recently tried to sweeten the pot to try and lure officers in Illinois to the Sunshine State.
On September 14, DeSantis announced his administration was launching a recruitment campaign in Chicago by setting up billboards inviting police officers to work in his state. The Florida leader alleged that law enforcement was "unappreciated" in the Prairie State and his state would pay them each $5,000 to relocate. The billboard reportedly has an officer stating, "Citizenship matters. Law enforcement matters."
The governor's office reportedly released a statement pointing out that Illinois recently decided to allow "foreign nationals" to serve and protect. The announcement also highlighted the state's "cash bail system," a move they claim put "dangerous criminals" back out on the street. At the same time, DeSantis' office said the Florida leader fought against "bail reform" making his state a safer environment.
According to figures from Best Places, Chicago and Orlando are neck and neck when it comes to violent crime — both sitting double the average of the other states in the union. As for property crime, the Florida city far outweighs Chicago by more than 34 points. Still, DeSantis insists Florida beats Illinois in safety overall. The governor also didn't specify any particular city placement for the new officers who decide to move, and Florida is a large state.
The Washington Times recently reported that the governor said recruits are flocking to his state from 48 states and 2 US territories — over 2,700 in total. Clearly, he's aiming to increase that number. Do you think he'll start to take aim in other states?
Copyright 2023, RepublicanReport.org