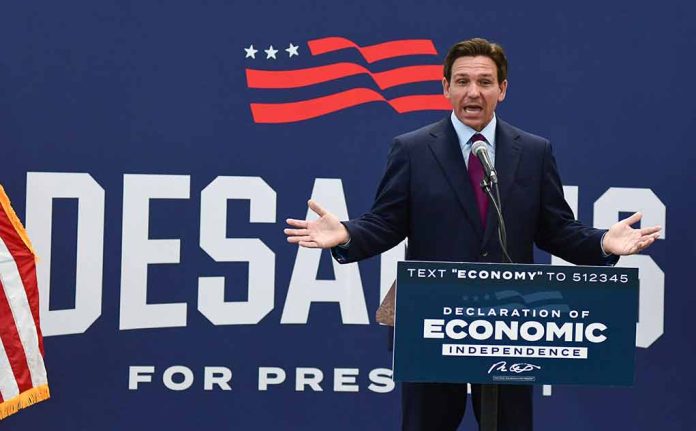 (RepublicanReport.org) – The Republican primary season for 2024 is quickly approaching and it still appears that former President Donald Trump is a shoo-in for the spot. A recent poll by Morning Consult has Trump at 59% of the vote, with Florida Governor Ron DeSantis sitting at a far second, bringing in only 13%. Third place goes to GOP candidate Vivek Ramaswamy with 10%, followed by former South Carolina Governor Nikki Haley with 6%. Recently, DeSantis spoke to a crowd in Texas, unveiling his energy policy, should he somehow secure the nomination and win the presidency.
On September 20, the Daily Wire reported that DeSantis plans to bring gas prices down to $2 per gallon if he becomes president. The average price of a gallon of unleaded gas hasn't been at that price point since just the spring of 2020. The Florida governor said he would accomplish this feat by eliminating the Biden administration's green policies and leaning back into oil and gas for energy.
DeSantis' plan, called "Freedom to Fuel" has multiple parts including American energy dominance, preserving the American automobile, evidence over ideology, ending green policies, and building a reliable energy grid. The governor believes America should withdraw from the Paris Climate Accords, explore nuclear energy, increase oil and gas exploration, and use the cheapest most reliable energy available. DeSantis also wants Americans to be able to choose what kind of car they want to drive, so he wants to repeal President Joe Biden's initiatives to move toward electric vehicles.
The GOP candidate detailed his entire plan on social media. He thinks it will lower inflation and help American families. Do you think anything in his plan could actually happen and do you think US citizens would support it? What do you believe DeSantis' chances are of winning the White House in 2024?
Copyright 2023, RepublicanReport.org