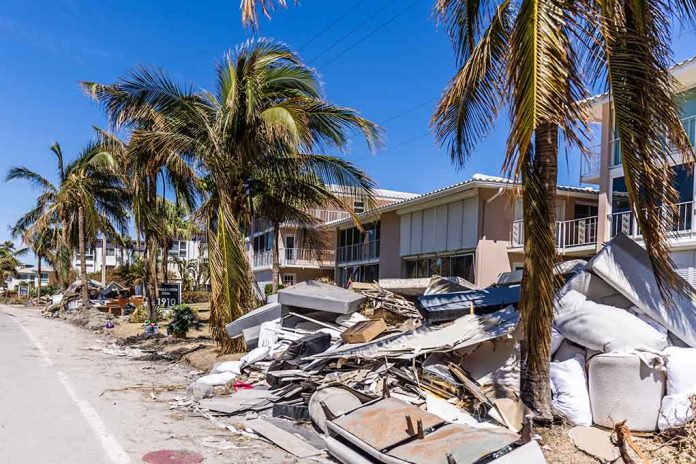 Ron DeSantis Polling Skyrockets After Hurricane Response
(RepublicanReport.org) – Governor Ron DeSantis' (R-FL) time in his current position has been a huge success in the eyes of many people. Now, he's earning praise once again for his response to Hurricane Ian; even President Joe Biden is commending his performance.
A new poll from YouGov America, in conjunction with The Economist, asked respondents from across the United States a number of questions about the natural disaster and the government's reaction to it. On the subject of DeSantis' work since it made landfall, 54% of those surveyed overall felt the governor had done a good job. This included 43% of Democrats, a significant number given DeSantis' unapologetic conservatism.
President Biden put aside political differences during a press conference in southwest Florida on Wednesday, October 5, praising DeSantis for his hurricane relief work. The president said he had cooperated completely with the Republican governor since the storm landed and stated what DeSantis had done was "pretty remarkable."
A majority of respondents also approved of the jobs done by the federal government, Florida's state government, and the Federal Emergency Management Agency (FEMA) in relation to Hurricane Ian.
Our latest poll w/@TheEconomist finds that 54% of Americans – including 80% of Republicans and 43% of Democrats – approve of how Ron DeSantis has handled the response to Hurricane Ian.

Nationally, DeSantis has a +6 net favorability rating (40%/34%).https://t.co/GePxVxbQCh pic.twitter.com/IRGPbiI1kP

— YouGov America (@YouGovAmerica) October 9, 2022
Do you think the results of this YouGov America poll and President Biden's comments show that DeSantis has the kind of bipartisan support necessary for a successful presidential campaign?
Copyright 2022, RepublicanReport.org