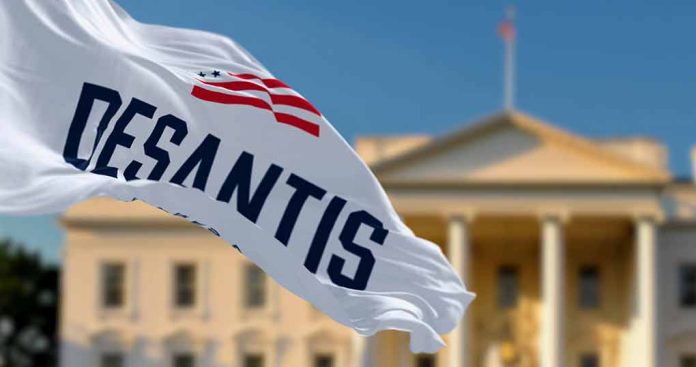 (RepublicanReport.org) – The 2024 presidential race is heating up with more than a handful of candidates vying for a win, particularly within the Republican party. Former President Donald Trump and Florida Governor Ron DeSantis have emerged as prominent figures in the spotlight. However, recent developments show DeSantis is facing challenges and losing ground, leading — in part — to a significant restructuring of his campaign strategy.
On July 26, the Daily Wire reported that DeSantis made a bold move by firing over a third of his campaign staff to change his approach. While the Florida governor's campaign displayed promise with a commendable fundraising amount of $20 million during the second quarter of this year, concerns arose about the rapid expenditures claiming nearly half of those funds within the same three-month period.
The DeSantis team recently faced a big bump in the road when one of his staffers recently used a Nazi symbol in one of the governor's videos, causing understandable backlash. That person was among those cut from the staff.
Initially boasting a campaign staff of over 90 members, DeSantis opted to cut 38 positions. DeSantis' campaign manager, Generra Peck, expressed confidence in the revamped team, believing they are now "ready to hit the ground running." Acknowledging previous issues, Peck stated that some strategies proved ineffective, leading to a decision to move forward with a leaner team.
Recent polls reflect a decline in DeSantis's support, which previously positioned him as a strong contender against Trump. RealClearPolitics now shows DeSantis averaging 18.4%, only 13 points ahead of fellow GOP candidate Vivek Ramaswamy and 34 points behind Trump. Notably, Harvard CAPS/Harris Poll showed DeSantis in the worst light, with a mere 12% support.
With DeSantis's campaign facing challenges and lagging behind in polling, Peck faces the task of devising a more effective strategy if the candidate has any hope of securing a win in the Republican primary.
Copyright 2023, RepublicanReport.org