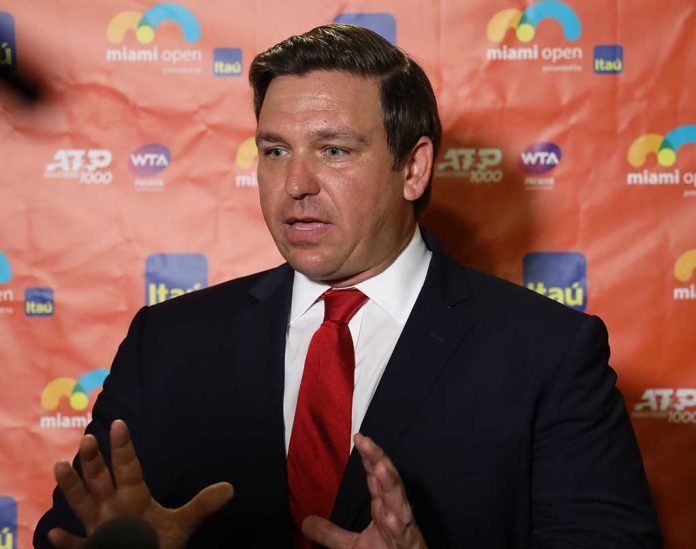 (RepublicanReport.org) – Florida Governor Ron DeSantis (R) hasn't said anything to indicate whether he intends to enter the 2024 presidential primaries — but actions often speak louder than words. He recently toured the country to discuss political policies alongside his book release, and he just announced an international tour that will have him traveling to Japan, South Korea, Israel, and the United Kingdom to discuss expansions in international commerce and tourism. Now, the Florida leader's allies are quietly attempting to change a major law that, left unaltered, would require DeSantis to resign from his current position if he wanted to run for president.
Lawmakers are gearing up to change Florida's "resign-to-run" law, allowing Gov. Ron DeSantis to run for president if he chooses without stepping down as governor. Read more: https://t.co/88swe4ucjf pic.twitter.com/xwIVsDqFAH

— NEWSMAX (@NEWSMAX) April 26, 2023
Sen. Travis Hutson (R) submitted the 97-page proposed amendment on Tuesday, April 25. SB 7050 lists numerous changes to the current law, many of which cover minor technical edits, improved voter verification practices, and stricter guidelines on third-party votes. The document also suggests cuts to current restrictions listed in Florida State Statute 99.012 (3) (a), which strictly forbid anyone holding a "state, district, county, or municipal public office" from qualifying for the presidency or vice presidency without first resigning from his or her current post.
In DeSantis' case, it would allow him to run for president without gambling his current position in the process. Clauses (b) and (c) specify that an official's resignation cannot be revoked if the candidate fails to win their desired seat, so current law demands that the governor choose either his current position or make a firm bid for the White House. The clause safeguards against the possibility of an elected official holding more than one public office at the same time, even if the overlap is a short one. If DeSantis manages to overcome these hurdles, he will have to juggle the responsibilities of both jobs until his term in Florida ends.
Trump's campaign shared a scathing tweet that denounced DeSantis for his recent actions. Specifically, it chastised his potential rival for spending much of March and April traveling the United States and multiple foreign countries, all while Florida taxpayers footed the bill.
Ron DeSantis has spent half his time the past two months campaigning for President outside of Florida… while Florida taxpayers pickup the tab! pic.twitter.com/K6kPS5W4IE

— Team Trump (Text TRUMP to 88022) (@TeamTrump) April 25, 2023
Trump attempted to derail the conservative governor's "shadow campaign," according to NBC News, with an ethics complaint he filed in March, but the Wall Street Journal reported that the suit was ultimately unsuccessful.
Copyright 2023, RepublicanReport.org