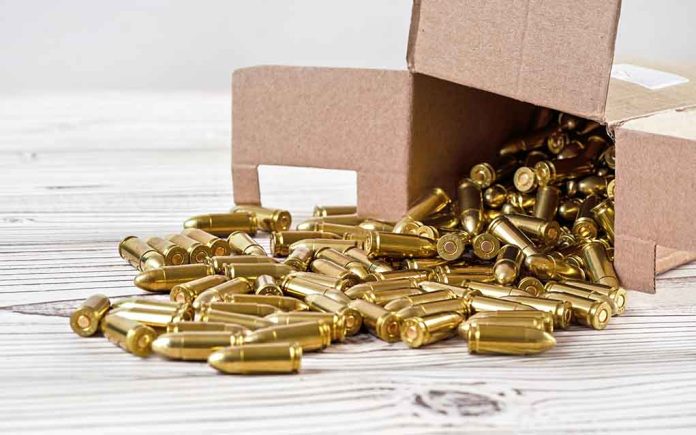 (RepublicanReport.org) – The right to own a firearm is enshrined in the US Constitution. However, if some Democrats had it their way, people wouldn't be able to own guns. Many on the Left have spent years attempting to implement gun control. Some states, such as California, have succeeded in some way, introducing heavy restrictions on firearms. On a larger scale, the effort has failed as Americans stand by their Second Amendment rights. Now, Democrats are looking to enact gun control in another way: they want to restrict ammunition sales.
HR 584
Lawmakers on the political Left are looking to implement harsher restrictions on ammunition transactions with the recent introduction of the "Stop Online Ammunition Sales Act," formally identified as House Resolution (HR) Bill 584. Under the proposed legislation, firearms dealers could no longer sell ammo online. Additionally, the bill would require dealers to obtain new licensing to continue selling ammo and calls upon them to report any transaction where the customer buys more than 1,000 rounds of ammunition.
Democratic Drive
According to Representative Bonnie Watson Coleman's (D-NJ) website, she and Representative Kweisi Mfume (D-MD) reintroduced the act. The New Jersey congresswoman said people are losing their lives "day in and day out" due to gun violence. Watson Coleman criticized Republicans, claiming they only offer "moments of silence" while failing to act.
The congresswoman noted that she and her colleagues have introduced "common sense legislation" she claims would reduce the amount of gun violence in the US if Congress would pass them. Mfume declared that mass shootings won't stop "on their own," and that America can't wait for the next one. He expressed his pride in working alongside the New Jersey Democrat and co-lead HR 584 to "protect innocent lives." The Daily Caller reported that 23 Democrats co-signed the legislation proposal alongside Watson Coleman.
Fighting Back
Fenix Ammunition, a small family-owned ammo manufacturer, recently spoke with the Daily Caller News Foundation about the proposed bill, noting that the recent proposal from Democrats didn't come as a surprise to them. CEO Justin Nazaroff declared the business was confident the group of Democrats would fail, noting they feel any ammo restrictions will fail at the federal level. The CEO mentioned their efforts to fight regulations already in place in states like New York and California.
Democrats have been after the Second Amendment, firearm dealers, and gun owners for decades. They may have won a few battles here and there, but ultimately the right to bear arms has prevailed. There are several debates on both sides of the aisle. Many may see HR 584 to be necessary. In contrast, others will argue it's crossing a line and may even be an infringement on the American right to keep and bear arms, a direct violation of the US Constitution.
Copyright 2023, RepublicanReport.org