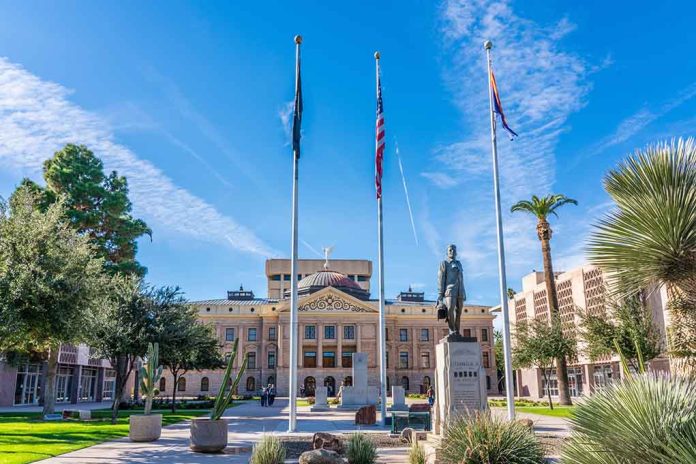 (RepublicanReport.org) – Arizona has set the scene for a lot of political controversy over the last number of years. Following the disputed election results of the presidential vote in 2020, then-President Donald Trump focused a lot of his efforts to overturn the results of alleged fraud in Arizona. Now, a hotly-contested gubernatorial election between Democrat Katie Hobbs and Republican Kari Lake has produced a result, with Hobbs coming out on top. However, Lake isn't convinced of the reported results.
Governor Hobbs was sworn in on Monday, January 2, alongside incoming Attorney General Kris Mayes (D) and Superintendent of Public Instruction Tom Horne (R). The swearing-in ceremony took place at the Capitol Executive Tower in Phoenix, and was timed to accommodate Arizona's Constitutional law with respect to official terms. The law requires that the state's elected officials must begin their terms on the first Monday in January, notwithstanding any federal holidays.
NOW @katiehobbs is sworn in as Arizona's 24th governor. pic.twitter.com/k0a2m3UWea

— Brahm Resnik (@brahmresnik) January 2, 2023
Lake has sued Maricopa County, Arizona's biggest voter area, over claims the counting mechanisms used in the election were faulty. She's pointing to a variety of allegations to prove her case, including witness accounts from people working in polling stations on the day of the election, as well as voters themselves. In order for her lawsuit to succeed, the Republican will have to persuade the court that 17,000 or more votes for Governor Hobbs were fraudulent, as this was the margin of victory. Lake was among the Republicans to voice concerns that the presidential election in 2020 was subject to illegal interference. She has continuously supported former President Donald Trump in his claims to this effect.
Do you think Katie Hobbs is the right person to sit in Arizona's gubernatorial mansion? Also, do you believe there is any validity to Kari Lake's claim that the election was rigged against her?
Copyright 2023, RepublicanReport.org