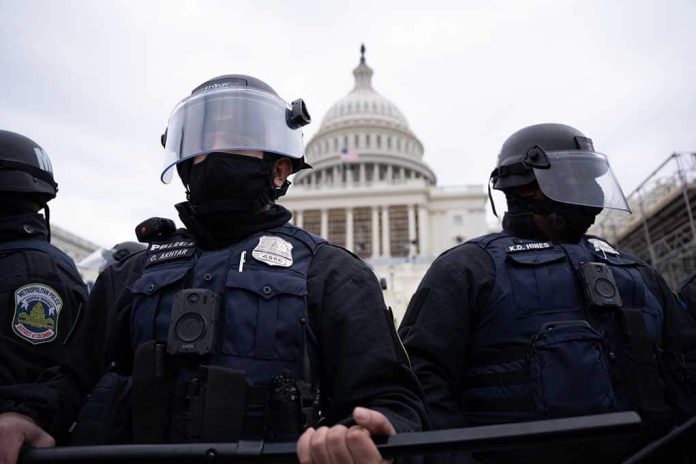 (RepublicanReport.org) – The January 6 protests sparked a number of investigations into events as they unfolded on the fateful day. One event, in particular, involved determining whether or not the Capitol Police used excessive force in dealing with the protestors. Now, a new ruling by the DC Metropolitan Police Department's Internal Affairs Bureau (IAB) has many people outraged with its findings.
Many videos of the day's events involving the Capitol Police went viral as they used what seemed to be a heavy hand, even with unarmed protesters. One of these videos involved Rosanne Boyland, a Trump supporter, who later died of her injuries. The film, compiled by Gary McBride of Decatur, Texas, shows police officer Lila Morris allegedly striking Boyland with a steel baton and another weapon while she was unconscious. Boyland, who had gotten trapped and knocked down when police released crowd-control gas, laid defenseless.
Bodycam Footage Shows Capitol Police Officer Lila Morris Beating Protester Rosanne Boyland with a Stick While on Ground Before Her Death on Jan 6https://t.co/8NqziytT4B

— Jack Posobiec 🇺🇸 (@JackPosobiec) February 11, 2022
After compiling the video, McBride filed a police brutality complaint against Morris in September 2021, which was dismissed just two months later in November. According to the IAB's Director of Risk Management Division, Capt. David Augustine, "the use of force within this investigation was determined to be objectively reasonable."
McBride was outraged, along with many others. He feels Morris, who's still employed with the MPD, got off scot-free, despite Boyland having lost her life when it could have been avoided had the officer used a less severe course of action.
Police officers did eventually administer CPR, but by then, it was too late.
Copyright 2022, RepublicanReport.org