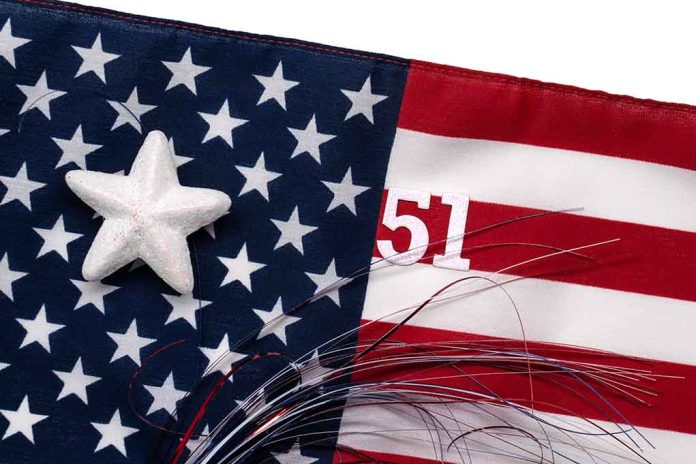 (RepublicanReport.org) – With so much going on on the international stage, it can be easy to forget about the political battles unfolding on American soil. However, partisan activity is alive and well, and one key Democratic agenda is back under the spotlight again in light of new development.
On Monday, February 28, House Speaker Nancy Pelosi (D-CA) unveiled a statue of architect Pierre L'Enfant in the Capitol Building alongside city officials. L'Enfant designed the federal district and is now the second statue in the Capitol representing Washington, DC, following the unveiling of a statue of abolitionist Frederick Douglass there in 2013.
Every state in the Union has had the right to display two statues in the Capitol since 1864. Since Washington, DC is not a state; it did not traditionally have the right to participate in this tradition. As Nancy Pelosi and DC Mayor Muriel Bowser (D) directly stated following the statue's unveiling, this is a victory for Democrats in their ongoing campaign to make DC a state.
D.C. officials joined House Speaker Nancy Pelosi to unveil a statue in the Capitol of the architect who designed the federal district, Pierre L'Enfant — giving D.C. two statues in the building, like all the states. https://t.co/ldmqtTpOcB

— The Washington Post (@washingtonpost) February 28, 2022
Democrats have been pushing to make DC a state for some time now, claiming it's important for the federal district's residents to have proper representation. Republicans are generally opposed to the idea. Analysts have highlighted that DC becoming a state would benefit Democrats enormously, as the deep-blue area would very likely add two Democratic senators to Congress at every election.
While this is only a symbolic development, it could foreshadow more substantial changes to come.
Copyright 2022, RepublicanReport.org