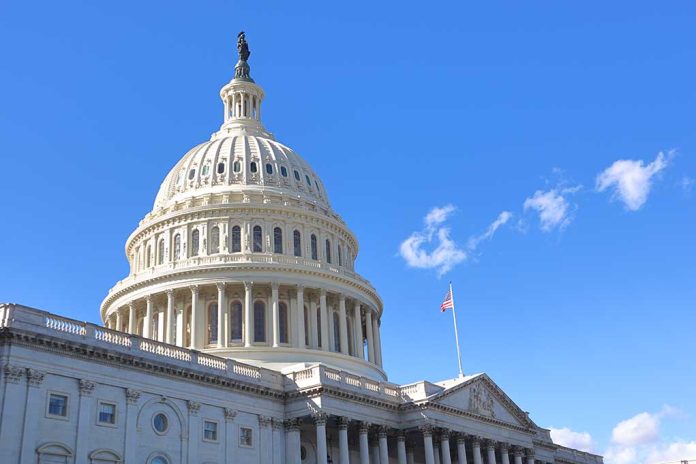 House Lawmakers VOTE – Major Amendment Passed!
(RepublicanReport.org) – Have you ever looked into the night sky and seen something odd, something that might just have been otherworldly? Chances are many people have, although, in most cases, there were probably normal explanations.
Increasingly, however, Americans are reporting sightings that cannot be explained away, so much so that Washington, DC is starting to sit up and take notice.
House Lawmakers Push UFO Amendment
On Wednesday, July 13, the US House of Representatives passed an amendment to the National Defense Authorization Act related to UFOs. The new measure allows for the creation of a reporting system for government officials to record sightings of strange airborne objects. It also offers protection to current and former officials filing these reports, as some may be prevented from doing so by non-disclosure agreements.
The legislation does provide an exception to these new rules in relation to any sightings possibly related to top-secret US government business. There is also a carve-out for incidents related to "a special… or compartmented access program."
Otherwise, however, there will be a broad-based amnesty for government employees wishing to record and report UFO sightings. It includes military service members (both active and retired), military contractors, and civilians working for the government.
Why Now?
There has been a notable uptick in the number of UFO sightings around the US in recent years. These include reports of objects using technology not currently available to the American military, or any other military as far as our intelligence experts are aware. Some accounts even claim defense aircraft have nearly collided with these unidentified objects.
A number of political leaders have expressed dissatisfaction with the way in which UFO sightings have been handled up to now. Reps. Mike Gallagher (R-WI) and Ruben Gallego (D-AZ), the bipartisan co-sponsors of the House amendment, have stated the move is necessary for the best interests of intelligence and national security. However, they also want to provide assurances for Americans who may have seen UFOs or heard about sightings that the government is doing what it can to get to the bottom of the issue.
The House amendment is one among dozens the chamber debated in relation to the National Defense Authorization Act this week. The Senate is also in the process of working on the bill, and the two chambers will need to pass a final version before the end of the year.
What do you think is behind the increased number of UFO sightings in recent years?
Copyright 2022, RepublicanReport.org