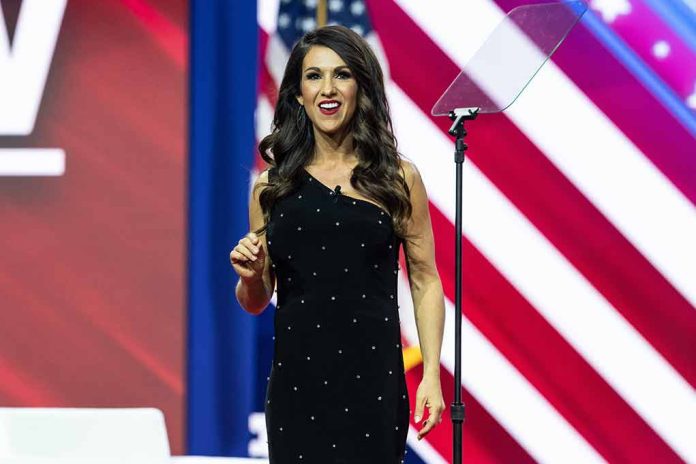 (RepublicanReport.org) – Colorado Rep. Lauren Boebert (R) attracted all the wrong attention when she and a male companion attended a recent production of "Beetlejuice." Her conduct was reportedly so disruptive, security officers asked her to leave during the middle of the performance. The congresswoman tried to deny any wrongdoing, but the theater's closed-circuit cameras told a different story. Local news sources lambasted the representative, with one opinion piece calling her an "entitled princess."
Boebert appears to be having a blast at the September 10 showing of the "Beetlejuice" theatrical production, according to recordings obtained by the Associated Press and released on YouTube. The patrons around her, one of whom politely leans forward at one point to ask the lawmaker to tone it down, don't seem to share her enthusiasm. Footage also captures Boebert taking hits from her vape pen — a prohibited act inside the theater — before being escorted out of the indoor venue. The woman behind her was reportedly pregnant and also took issue with the representative's flagrant use.
Boebert's staff initially denied the vaping accusation, insisting any perceived smoke in the audience was part of the performance. The Colorado representative later apologized, admitting she "fell short of [her] values," blaming her lapses in judgment on her divorce. She reportedly filed to end her marriage in April.
Brian Kitts, who represents the Denver Arts and Venues as its director of marketing and communications, told the Colorado Sun that theater staff had warned Boebert and her date about their conduct — which also included talking loudly, using their cameras, and groping one another — during intermission, but the disruptive behavior continued. Upon being escorted out, the congresswoman flashed a peace sign, which she allegedly turned into a single-fingered salute.
Locals are slamming Boebert. One opinion piece voiced the possibility that perhaps she'd had a little too much to drink. Another suggested the behavior was a career ender. With her seat up for grabs in 2024, the lawmaker has little time left to convince voters she's still the family-values conservative she claims to be.
Copyright 2023, RepublicanReport.org