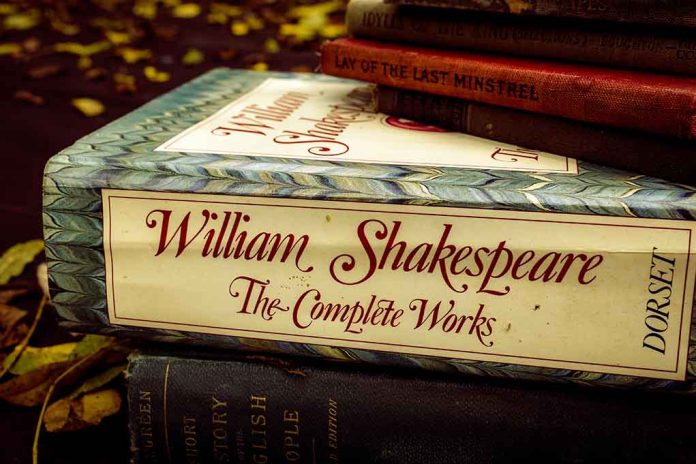 (RepublicanReport.org) – Tragedy compelled Ancient Greece and those living in the Shakespeare era. For centuries, classics like "Hamlet" have been recreated for audiences to enjoy. However, the modern era is much different than previous generations. A university in England has begun placing so-called "trigger warnings" on work in the tragedy genre, including that of Ancient Greece and Shakespeare.
Tragedy may be too "triggering" for modern students, academics have warned.

The dramatic art form has entranced audiences from Ancient Greece to the Shakespearean stage, but has now been deemed potentially upsetting by staff at the University of Derby https://t.co/5Y2kbRfxWb

— The Telegraph (@Telegraph) January 25, 2023
According to The Telegraph, the University of Derby believes these works could cause students to experience distress. The institution's staff warn that the literature focuses heavily on suffering. Arthur Miller's "Death of a Salesman" and stories regarding the death of fictional monarchs in Athenian dramas are also included in the literature module the school has labeled with trigger warnings. Works by Sophocles and Aeschylus appear on the list, as well for topics surrounding dark sexual material as well as murder themes.
In London, the University of Greenwich has taken similar steps in protecting its students. The institution issued a trigger warning for a poem by Samuel Taylor Coleridge, written in 1798, titled "Rime of the Ancient Mariner." The literature features references to the death of people, possession by supernatural forces, and even someone using a crossbow to kill an albatross. A separate piece from the Telegraph notes that Greenwich implemented these warnings at the behest of its students.
The University of Warwick deemed "Ivanhoe," a historical work of fiction by Sir Walter Scott, potentially distressing to some students. The institution claims the work contains racism and misogyny.
At the University of Kent, education expert Professor Frank Furedi expressed his dismay against the trigger warnings. The critic asserted that in order for a tragedy to intrigue the reader and draw them in, it needs to be emotionally compelling and cause the person to be upset. Furedi declared that a "safe tragedy" simply didn't exist, and that was something that anyone studying the literature genre had to learn to live with.
Copyright 2023, RepublicanReport.org