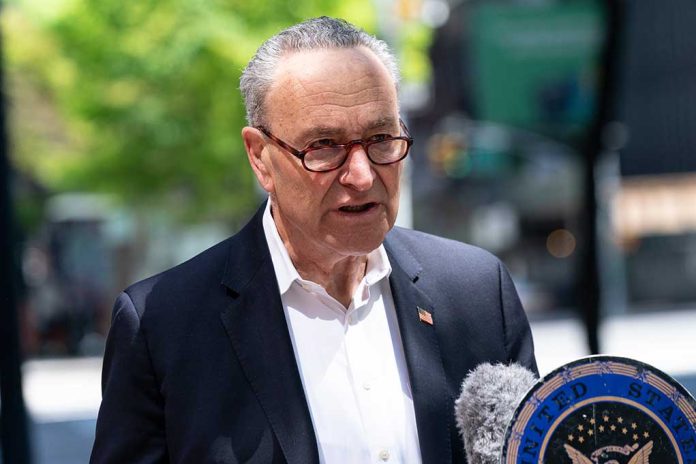 Schumer DROPS the Hammer – Blocks Critical Bill!
(RepublicanReport.org) – The Uvalde, Texas shooting at Robb Elementary School has brought school safety to the forefront of conversations. According to the police, the shooter entered the building through a door a teacher had left open. Now, Senate Majority Leader Chuck Schumer (D-NY) has blocked a major bill that Republicans feel could keep schools safer.
On May 25, one day after the Texas shooting, Schumer blocked the Luke and Alex School Safety Act. The senator said he believed the legislation could introduce more guns to schools, and argued that having more security/safety measures in schools would not be enough. Senator Ron Johnson (R-WI), who asked for the bill to be passed by unanimous consent, responded by saying Schumer was lying.
Not surprising that the Democrat leader would lie about the bill he blocked that parents of Parkland victims have been trying to pass for years.

Dems aren't looking for solutions, they want wedge issues that they hope will keep them in power. Sick. https://t.co/f4zbNb03ey

— Senator Ron Johnson (@SenRonJohnson) May 26, 2022
The bill, named after Luke Hoyer and Alex Schachter who died in the 2018 Parkland, Florida shooting, would force Homeland Security to create a "Federal Clearinghouse on School Safety Best Practices" for local and state law enforcement and educational institutions, healthcare professionals, and others. According to the bill's summary, the Clearinghouse bill would provide a way for the public to access recommendations on how to best preserve the safety and welfare of people in schools based on data, evidence, and feedback.
Schachter's father, Max Schachter, told Fox News he was heartbroken over Schumer's decision. The grieving father also suggested he didn't buy Schumer's explanation, saying the legislation mandates no such thing. "It has nothing to do with guns," he said. Schachter went on to say he was disappointed that even after 19 more children died, lawmakers seem unwilling to "do the right thing."
Do you think the Clearinghouse bill would have made a difference for US schools?
Copyright 2022, RepublicanReport.org