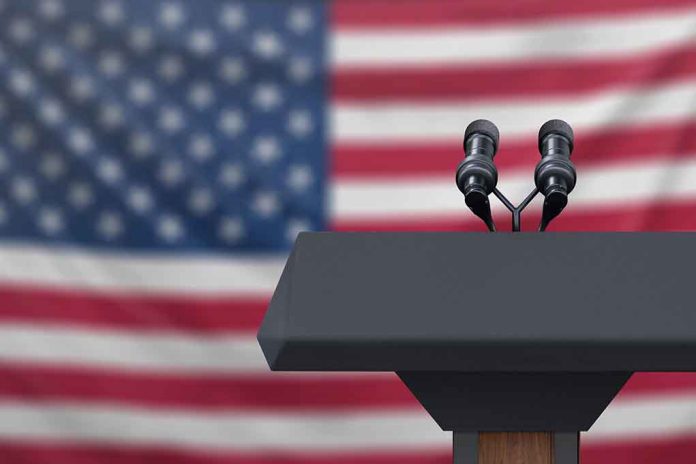 (RepublicanReport.org) – While the news surrounding former President Donald Trump seems to focus on his various federal and state legal woes, the previous US leader still has a campaign to run for 2024. In fact, the first presidential debate for the Republican primary contenders is just around the corner. On June 2, Republican National Committee (RNC) Chairwoman Ronna McDaniel announced the first event would take place in Milwaukee on August 23. This has left some wondering if Trump will appear on stage.
On August 10, GOP presidential candidate Chris Christie appeared on Newsmax, where he said he expects Trump to participate in the debate. He said the former president likes the attention, which drives him into the spotlight. More than that, the former New Jersey governor thinks Trump owes it to Republican voters to "go in there and earn" their vote. Christie said people would wonder why he didn't show up if he decided to skip the debate, a move that could prove to be risky for his campaign.
At the end of July, The Guardian reported there were 14 people in the Republican party running for president in 2024. Only eight qualified for the debate in Wisconsin, including Christie, Trump, Florida Governor Ron DeSantis, and businessman Vivek Ramaswamy. The former NJ governor believes seven will show up for the debate — including Trump.
It's unclear whether or not the debate would help or hurt the former president's poll numbers. That will likely depend on how it goes. Right now, Trump is the clear frontrunner for the Republican nomination. A recent report from RealClear Politics gave him an average 39.1% lead over his opponents. The former US leader is pulling an average of 54.2%, leading the second contender, DeSantis, the only other candidate in double digits. According to the polls, Christie only has an average of 2.6% of the vote.
Copyright 2023, RepublicanReport.org