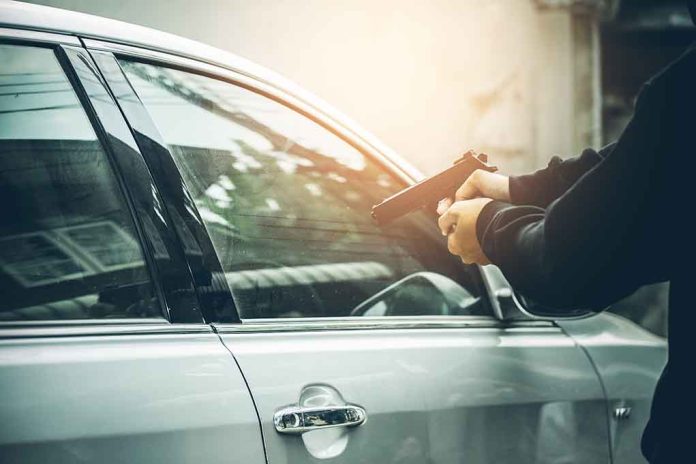 Attempted CARJACKING Reported – Unlikely Hero Rushes In!
(RepublicanReport.org) – According to the National Insurance Crime Bureau, there were nearly one million vehicles reported stolen in the United States in 2021. Carjackings have also steadily been on the rise over the last few years, Police Executive Research Forum reports. One Florida man allegedly tried to carry out such a crime against a woman outside a Chick-fil-A outlet, but a brave employee of the restaurant thwarted him.
According to the sheriff's deputies on patrol in Okaloosa County at the time, a man holding a sharpened piece of wood approached a woman, who was holding an infant, outside the restaurant and forcibly took the keys to her car. He entered the vehicle in an attempt to escape while the woman screamed and appealed for help. Chick-fil-A worker Mykel Gordon (26) heard the commotion and went outside to confront the carjacker, and wrestled him to the ground. Other individuals present then came to Gordon's aid in restraining the man.
Dramatic video shows a Chick-fil-A employee tackling a man who allegedly tried to carjack a woman with a baby. https://t.co/PHHjD83ZWK

— WJZ | CBS Baltimore (@wjz) September 15, 2022
Sheriff's deputies arrived on the scene and arrested the man, naming him later as William Branch (43). They charged him with one count each of carjacking with a weapon and battery. Investigators are reportedly using video of Branch's scuffle with Gordon as evidence in their effort to build a case against the 43-year-old, who reportedly attempted to steal another car shortly before his effort to do so in the Chick-fil-A restaurant.
Sheriff's deputies and Chick-fil-A company officials both paid tribute to the 26-year-old after the incident.
Copyright 2022, RepublicanReport.org