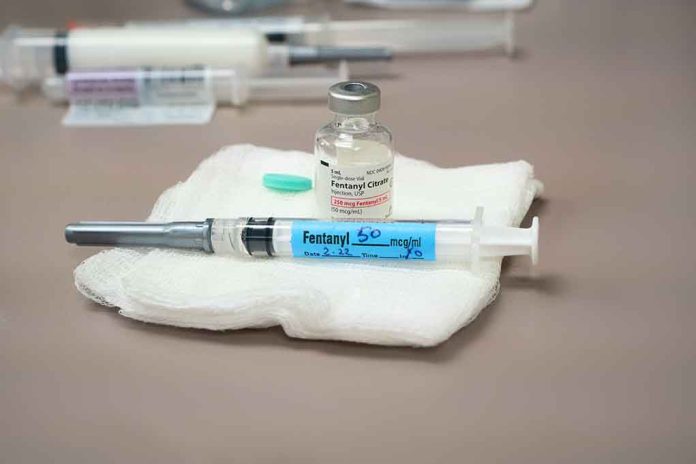 Police Make DEADLY Discovery – Suspect Arrested!
(RepublicanReport.org) – Fentanyl is arguably one of biggest public health challenges currently facing the United States. Massive quantities of the potent synthetic opioid reportedly come into the country from China and across the southern border, and it's driving up the rate of overdose deaths in the United States to dizzying heights. Recently, a raid on one California property uncovered a scarcely believable quantity of the dangerous drug.
Authorities in Orange County charged 60-year-old Alfonso Gomez-Santana with three felony counts after police found four kilos of fentanyl when they stopped and searched his vehicle. They subsequently traveled to his residence and found another 20 kilos of fentanyl, along with fentanyl pills valued at around $250,000. The total amount of the drug police found was reportedly sufficient to kill 12 million people. According to reports, officers also found 122 grams of methamphetamine while searching the property.
As the Biden fentanyl crisis surges across America, a suspected drug dealer in California has been charged with possession of fentanyl that could kill up to 12 million people. https://t.co/YEFc2zZFot

— Breitbart News (@BreitbartNews) June 26, 2022
Officers apprehended Gomez-Santana on Wednesday, while he was driving in Fullerton. He could receive a maximum sentence of just six years and eight months behind bars if a court convicts him of all three felony charges.
Officials believe nearly 108,000 Americans died of drug overdoses in 2021. Is it time President Joe Biden and his supporting officials started doing more to tackle this major crisis?
Copyright 2022, RepublicanReport.org