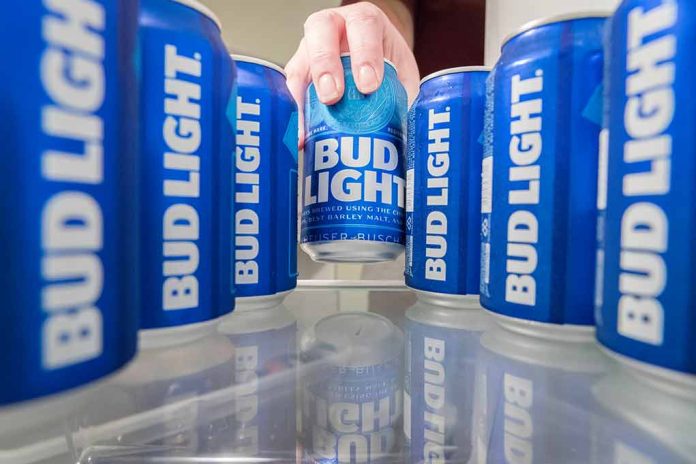 (RepublicanReport.org) – In April, Bud Light partnered with social media superstar Dylan Mulvaney. The backlash that followed was harsh. Many Conservatives didn't like the company bringing in a transgender woman to promote the beer and made big moves to tank the product's popularity in protest. Anheuser-Busch InBev stock didn't immediately take a tumble but dipped to its lowest point all year before climbing again.
On July 28, Fox News reported that Anheuser-Busch was making some moves that could stem from the whole Mulvaney controversy and the aftermath. The beer maker is reportedly laying off about 380 employees in the US, which represents less than 2% of the company's American workforce.
Anheuser-Busch CEO Brendan Whitworth released a statement saying the decision wasn't easy but necessary for the organization's "future long-term success." A spokesperson for the company also spoke out, saying the layoffs were only affecting "corporate and marketing roles." They said Anheuser-Busch is reorganizing to simplify its business model. Those laid off will receive a generous severance package.
Executive Director of Consumers' Research Will Hild said now that customers realize how much impact they can have on a brand, they'll be more likely to use that power to "make their voices heard." He believes consumers are tired of politics and Bud Light's troubles should serve as a "cautionary tale" for businesses.
Some believe the move is the company's attempt to boost lagging sales and help recover the stock. Currently, BUD stock is higher than a year ago and is on the rise. It's unclear if the actions will impact the overall company, but analysts predict the beer maker won't suffer for long. Experts believe Anheuser-Busch will still grow by nearly 20% in 2024.
Do you think Bud Light will shy away from politics going forward? Do you believe the company's move will bring people back to the brand?
Copyright 2023, RepublicanReport.org