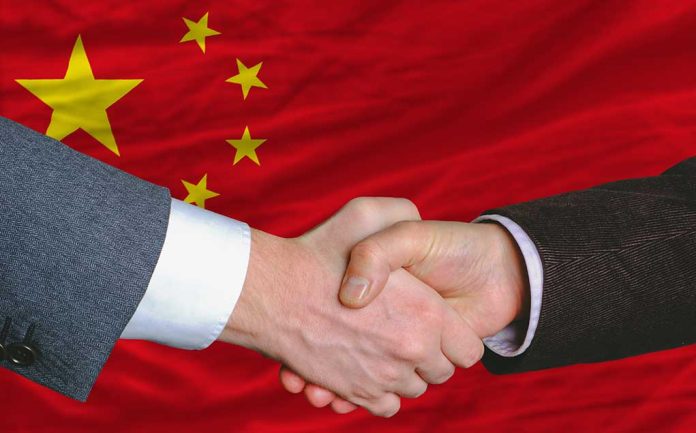 (RepublicanReport.org) – It's no secret the values of the Chinese Communist Party (CCP) are wholly incompatible with those of average Americans. Politicians, particularly on the Conservative side of the aisle, often like to highlight this reality. However, according to a new book, many senior Republicans allegedly have much closer ties with China than they'd like to admit.
According to Peter Schweizer's new book, entitled Red-Handed: How American Elites Get Rich Helping China Win, at least 20 well-known former and current GOP leaders reportedly have little-known ties to Chinese interests.
'Red-Handed':20 Republicans Elites Including The Bush Family, Mitt Romney and Mitch McConnell Sold Out to the Chinese Communistshttps://t.co/KMTmtMgXYd pic.twitter.com/iWBzqeXHnG

— VotingFemale 🇺🇸 (@VotingFemaIe) February 18, 2022
Among them is Senate Minority Leader Mitch McConnell (R-KY), who, the book alleges, is connected to China via his wife, Elaine Chao, who served as former President Donald Trump's secretary of transportation. Chao's father owns a large shipping business, and McConnell's fortunes are therefore closely tied to America's policies on China.
The book also names former President George H. W. Bush (R) and his son, former Florida Governor Jeb Bush (R). Schweizer alleges the Bush family has had a range of business interests in China, spanning across decades.
Former House Speaker John Boehner (R-OH) also comes up for discussion. The book claims he made many moves that benefited China during his time in office. When he left Congress in 2015, Boehner took a position with lobbying firm Squire Patton Boggs, which allegedly has close ties with China.
Do you think it's time we started holding GOP leaders to account for allegations like these?
Copyright 2022, RepublicanReport.org