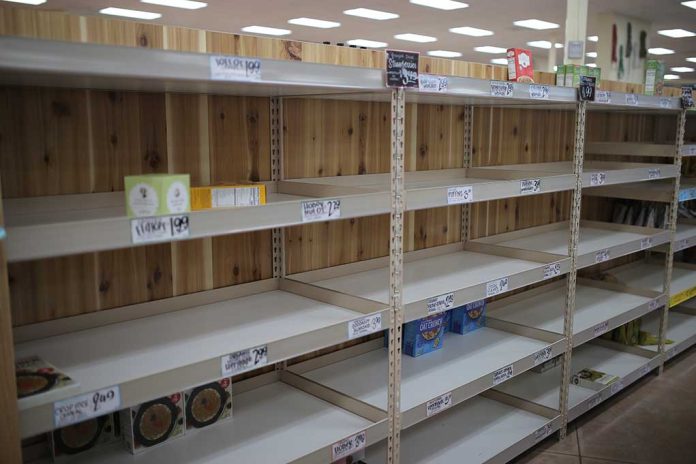 (RepublicanReport.org) – Two of the biggest challenges currently facing President Joe Biden are the supply chain crisis and the difficulties around his proposed vaccine mandate. Neither one appears to be going away anytime soon, and it now looks like the two might be about to combine, causing major headaches for the administration.
On Thursday, October 4, the White House announced that January 4, 2022, is the deadline by which workers must be vaccinated to satisfy the Occupational Safety and Health Administration (OSHA) mandate. The mandate does not provide an exception for truck drivers, and many of those working in the trucking industry remain unvaccinated at the moment. If drivers choose to quit their jobs rather than receive jabs, our supply chain will receive yet another major blow.
Many have noted that a mandate exception for truckers would make sense, given the solitary nature of their working lives.
The trucking industry will lose more than 1/3 of their drivers because of Joe Biden's vaccine mandate.

Why are we mandating the vaccine on workers who spend 99% of their time in a truck ALONE?

— Lance Gooden (@Lancegooden) November 5, 2021
Thus far, however, the Biden administration appears unwilling to consider the OSHA mandate's effect on the supply chain. Deputy Press Secretary Karine Jean-Pierre seemed to dismiss the concern during a press conference on Thursday.
Supply chain challenges are already making their presence keenly felt here, with significant, weeks-long backlogs at large ports. Biden's mandate deadline doesn't kick in until January, giving the supply chain a slight reprieve ahead of the holiday season. But, with so much pressure already on the nation's distribution channels, can we really afford to lose thousands of truck drivers?
Copyright 2021, RepublicanReport.org