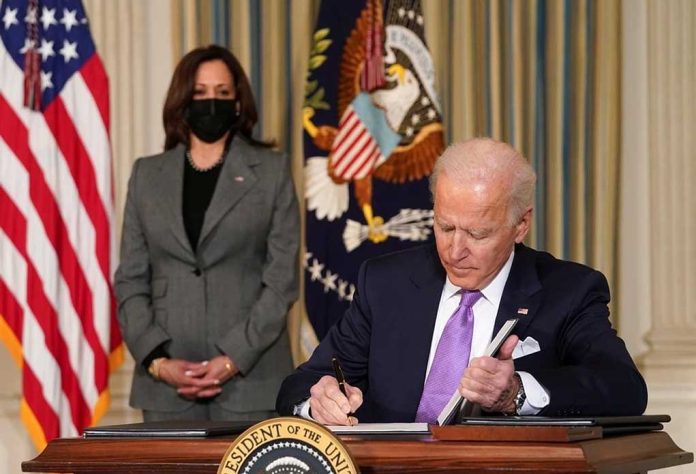 (RepublicanReport.org) – President Joe Biden has championed a "tax and spend" approach to fiscal policy since his inauguration. Republicans opposed his $1.9-trillion COVID-19 relief package on the grounds it was too expensive; it passed into law without a single GOP vote.
However, that hasn't satisfied Biden. He's planning to spend another $4 trillion on infrastructure and social projects, despite protests from Conservatives about the dangers of parting with that amount of cash, particularly since much of it goes to fund other than traditional infrastructure. However, there are a few recent developments that could make it harder for him to push his plans through.
April Jobs Report
Biden's spending plan hit a major speed bump last week as the release of April's jobs report unveiled an unexpected lag in our employment markets. Dow Jones predicted the US would add one million jobs to the economy in April; the real figure of 266,000 fell disappointingly short of expectations.
It's important to note that this number is not down to a lack of employment opportunities. Statistics show there are only slightly more unemployed people than job openings; this suggests people are choosing not to work. In light of Joe Biden's generous benefits programs, it's not hard to see why. Senator Ted Cruz (R-TX) warned of this outcome many months ago.
Inflation
Jobs aren't the only economic headache troubling Joe Biden at the moment. On Wednesday, May 12, new price statistics showed a spike in the rate of inflation in April. Average prices rose 4.2% from April 2020 to last month. According to the Labor Department, this was the sharpest increase in over a decade.
This can be partially attributed to the slump in prices that came with the onset of the COVID-19 pandemic. However, the extra liquidity Biden pumped into the economy with his stimulus package is a factor to consider as well. With prices already climbing, is now really a good time to put another $4 trillion into circulation?
A Divided Democratic Party
As if the stormy economic waters Captain Joe must navigate weren't enough of a challenge, he's also dealing with a few mutinous crew members. Some moderate Democrats are unsure of the president's spending plan, and would prefer him to limit expenditure in some areas. The Progressives, of course, think he isn't going far enough.
So, will Joe Biden's lavish ideas end up in the shredder? Time will tell.
Copyright 2021, RepublicanReport.org