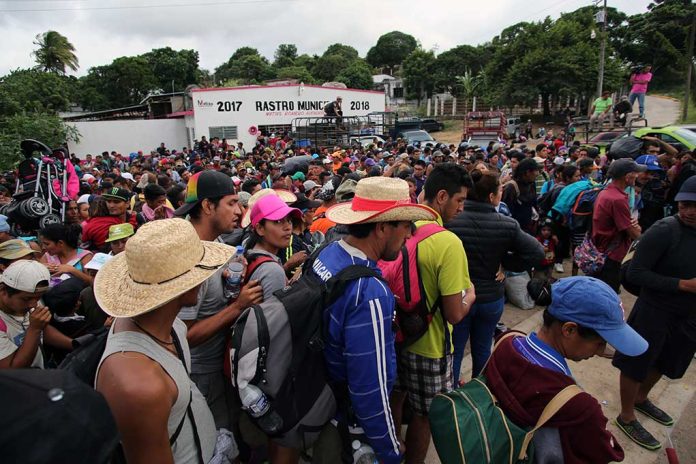 Biden ENDS Major Trump-Era Policy – A Recipe For Disaster?
(RepublicanReport.org) – Since entering the Oval Office, President Joe Biden's approach to immigration has earned him massive criticism from Republicans. Despite major pile-ups in border areas, as well as serious concerns about drug smuggling, Biden has been unsuccessful at improving the situation. Now, his administration is suspending a Trump-era policy following approval from a federal court.
According to a statement from the Department of Homeland Security (DHS), federal agents will no longer use the so-called "Remain-in-Mexico" policy when dealing with undocumented migrants. The rule allowed the authorities to expel asylum seekers across the southwest border while they waited for their court hearings, rather than housing them in American facilities.
A federal judge in Texas on Monday gave the Biden administration the green light to terminate Trump-era border rules that require migrants to wait for their U.S. asylum court hearings in Mexico. https://t.co/GYCe42TNiD

— CBS News (@CBSNews) August 9, 2022
The DHS statement said Secretary Alejandro Mayorkas was in favor of discontinuing the Migrant Protection Protocols (MPP), which is the policy's official name, because of humanitarian concerns. Critics have pointed out that migrants who are subject to the Remain-in-Mexico policy must often deal with dangerous conditions in border areas while they wait for the authorities to process their cases.
This development comes after a long legal and political struggle over the rule. President Biden has long been in favor of ending the MPP, but various challenges in court impeded the process. The US Supreme Court gave the go-ahead to suspend the policy in June, but a subsequent injunction held up the move until August, when a US District Court judge dropped the ruling.
Copyright 2022, RepublicanReport.org