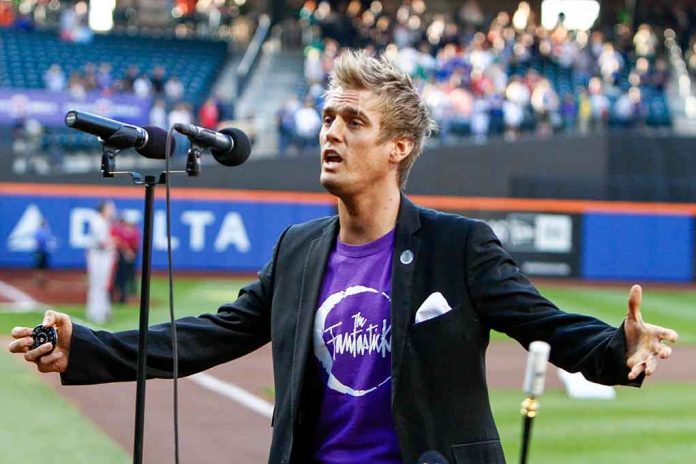 (RepublicanReport.org) – On November 5, 2022, a housekeeper working for Aaron Carter discovered his body underwater in the bathtub. He was unresponsive. Emergency services were called to the house and pronounced the singer dead at the scene; he was 34. Carter's death has led to a lot of speculation as to how exactly he died, but a recent autopsy raises more questions than it answered.
According to a report from TMZ, the Los Angeles County Medical Examiner's autopsy report indicates the 34-year-old singer had taken pills and huffed chemicals prior to his death. Carter had taken alprazolam, a generic version of Xanax, and huffed difluoroethane, a propellant in canned air.
The medical examiner explained the combination of the drugs and huffing incapacitated Carter. During this time, he submerged under the water and drowned. Authorities have officially ruled the singer's death was an accident. However, his family isn't convinced.
Aaron Carter drowned after huffing and taking Xanax: Coroner's report https://t.co/MfCxmsPvUP via @DailyMailCeleb

— Bo Snerdley (@BoSnerdley) April 18, 2023
Carter's ex-fiancé and the mother of his children, Melanie Martin, told TMZ the coroner's autopsy report didn't bring her closure. She mentioned how the report says her ex's cause of death was drowning, but also notes Carter was wearing a necklace and t-shirt, which Martin says didn't "make sense," and she only has more questions.
Martin also mentioned that she turned her ex's phone in to the police because there were messages between Carter and another person about $800 the singer owed them for an unspecified substance. The singer ended up telling the unnamed person he no longer wanted the substance, but the person demanded the money, which Carter questioned was a threat or not.
The singer's mom, Jane, believes her son's death may be the result of foul play. Jane posted on social media that the recent autopsy and official cause of death weren't good enough for her, his ex-fiancé, or his family. Carter's mother demanded an investigation declaring the people that loved the singer want answers, and, more importantly, justice for her son's death.
Copyright 2023, RepublicanReport.org