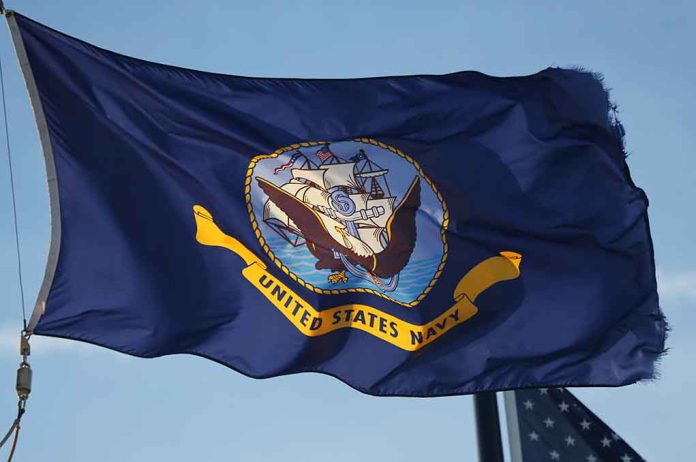 (RepublicanReport.org) – The US Navy has launched an investigation after three sailors from the same ship died in less than a week. Right now, the Navy says the deaths don't seem to be connected – but it and the local authorities are giving the crew extra support anyway.
Three U.S. Navy sailors assigned to the USS George Washington aircraft carrier have died within a week. The causes of their deaths remain under investigation. https://t.co/nfqa6b4LLO

— CBS Evening News (@CBSEveningNews) April 20, 2022
Going to sea is always dangerous, and even more so on a warship – but US Navy ships don't generally expect crewmen to die when they're in port. The nuclear-powered aircraft carrier USS George Washington has been docked at Newport News, VA, since 2017 for a major refit and reactor refueling. The refit is over 90% complete and there are already sailors living on board. Now three of those sailors are dead.
The Navy says the first death happened onshore on April 9, when the body of Mikail Sharp, a Specialist 3rd Class, was found. The next day, Class Natasha Huffman, Electrician 3rd was also found dead ashore. Then, on April 15, a third body was found unconscious on board the carrier. It was Seaman Recruit Xavier Hunter Mitchell-Sandor, who died later that day in a local hospital. Now, the Naval Criminal Investigative Service (NCIS) is looking into the deaths – but so far there's no evidence of foul play.
On April 20, the office of Virginia's Chief Medical Examiner said Sharp and Huffman both committed suicide. Mitchell-Sandor's cause of death hasn't been released yet. The Navy has sent an emergency psychiatric team to the ship to support the crew's mental health. So far, it doesn't look like the tragedies will prevent the carrier from returning to active duty next month.
Copyright 2022, RepublicanReport.org