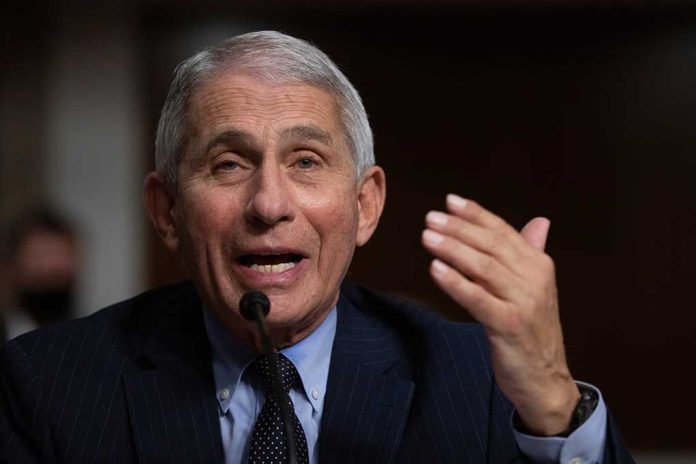 Anthony Fauci LEAVING?! – He's Got One Foot Out the Door!
(RepublicanReport.org) – Dr. Anthony Fauci became one of America's most famous faces during the COVID-19 pandemic. Chief medical advisor to President Joe Biden and director of the National Institute of Allergy and Infectious Diseases, the doctor is among the most influential officials in the nation. Now, the 81-year-old New Yorker may have plans to step down from his current position.
On Monday, July 18, Politico published an exclusive interview with Fauci in which the doctor indicated he would be stepping down by the end of Biden's term. The doctor spoke about his time spent working with former President Donald Trump. He stated he shared an "interesting relationship" with the 45th president, given they were both from New York, but that they were "different in… opinions and… ideology." Ultimately, Dr. Fauci said he was happy with the public health recommendations he made during the pandemic.
During the interview, Fauci mentioned the likelihood of Republicans taking control of both houses of Congress after the midterm elections in November. While he said it wasn't a factor in his career decision, he acknowledged it was possible he could be the subject of a Congressional investigation should it come to pass.
Fauci pushed for lockdowns, mandates, and firing every American who chose not to take the vaccine.

Now he want to "put COVID politicization behind him"?

What a farce. https://t.co/VPbtukwdeC

— Tom Cotton (@TomCottonAR) July 18, 2022
On July 19, Fauci rephrased his response after speculation popped up that he would be retiring. However, he says this isn't part of his plan, according to a report from The Hill. He meant that he would likely be stepping down from his position as NIAID director, but he's not expecting to retire any time soon. "I don't intend to be in my current position in January of 2025," he clarified.
What do you think of Anthony Fauci's performance in his federal government roles? Will you be happy to see him go?
Copyright 2022, RepublicanReport.org