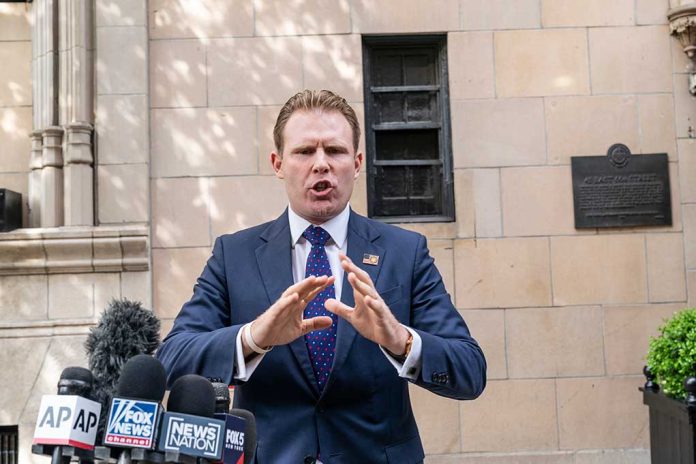 Andrew Giuliani BLOCKED From Debate Studio – You'll Never Believe Why
(RepublicanReport.org) – Last year, following the initial development and distribution of COVID-19 vaccines, a fierce debate sprang up around whether mandates around these vaccines were appropriate or legally acceptable. This debate has become less prominent in the media as more and more areas have lifted COVID-19 restrictions. However, mandates are still in force in some areas, as New York gubernatorial candidate Andrew Giuliani will tell you.
Having chosen to remain unvaccinated, Giuliani, the son of former Trump lawyer and New York City Mayor Rudy Giuliani, wasn't allowed to participate in a televised debate in person that took place on Monday, June 13, because of his vaccination status. This refusal aligned with WCBS-TV's policies — it was the station airing the debate broadcast. Giuliani opted to participate in the debate remotely.
The GOP debate is still a day away and there's already a controversy: @AndrewHGiuliani – proudly anti-vax – says he's been barred from @CBSNewYork b/c he won't get the shot.

His rivals, inc. @RepLeeZeldin
and @RobAstorino, say he should be there. https://t.co/VrrxHyPhO9

— Jesse McKinley (@jessemckinley) June 12, 2022
The Republican candidate said he chose to remain unvaccinated after reviewing data on COVID-19 vaccination. Giuliani claimed to have natural immunity from the virus and had offered to test for COVID prior to the event, but WCBS-TV stated this was an insufficient alternative and wouldn't meet its policy. Giuliani stated he would get rid of all vaccination requirements in New York if he were successful in the upcoming gubernatorial election.
Do you think it's fair that Andrew Giuliani had to participate remotely in Monday's debate?
Copyright 2022, RepublicanReport.org