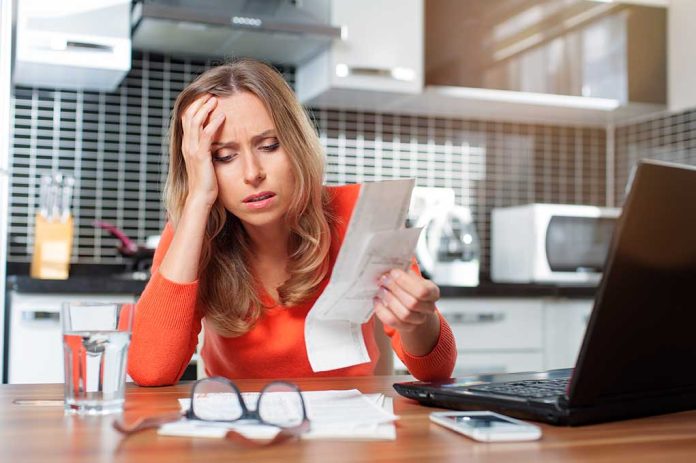 Energy Prices Threaten to CRIPPLE Americans – Mass Shutoffs LOOMING?
(RepublicanReport.org) – Soaring energy prices are starting to make their mark on American households. Rising gas costs, which have since started dropping, began affecting President Joe Biden's performance in opinion polls as early as last year, prior to their historic spike in 2022. Now, the National Energy Assistance Directors Association (NEADA) has shared some ominous news about families struggling with their energy bills on top of all the other high costs.
The NEADA believes the current energy affordability crisis is severe. Bloomberg reported that the Association estimates approximately 1 in 6 American households (20 million) have fallen behind on their household utility bills. Should this situation persist, one senior attorney at the Center for Biological Diversity warned, a large number of households may have their power turned off.
"…some 20 million across the country—about 1 in 6 American homes—that have fallen behind on their utility bills. It is, according to the National Energy Assistance Directors Association (Neada), the worst crisis the group has ever documentedhttps://t.co/RJvSnMxzxP

— Jonathan Ferro (@FerroTV) August 24, 2022
The overall amount owed is also an item of concern. The NEADA Director told Fox News that American householders collectively owe approximately $16 billion at the moment; that figure has increased from the $8.1 billion delinquent shortly before the onset of the COVID-19 pandemic.
In Europe, where the Russian war in Ukraine has also made a huge mark on energy prices, a number of national governments have introduced assistance programs to help those who are vulnerable with regard to their household energy costs. In the United States, however, the federal government has not brought in any such scheme, focusing instead on helping people pay for vehicle fuel.
Do you think the Biden administration should do more to address this issue?
Copyright 2022, RepublicanReport.org