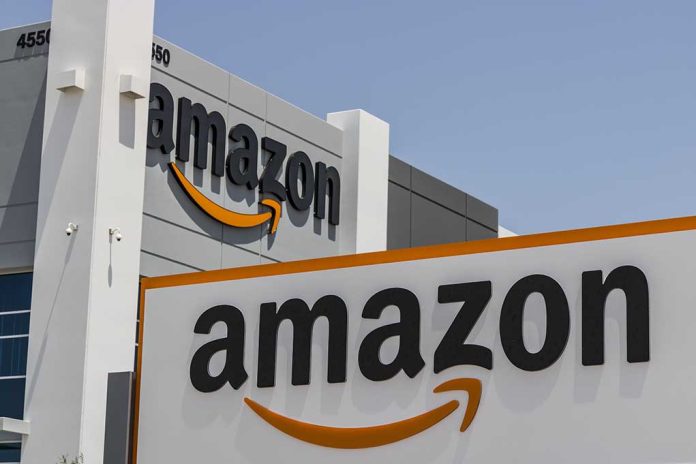 They're FED UP – Amazon WALKOUT Revealed
(RepublicanReport.org) – Technology and retail giant Amazon is among the most successful companies in history, but it's encountered its fair share of controversy, particularly when it comes to employee welfare. Many workers allege they're overworked, underpaid, and exposed to dangerous or unlawful conditions. The latest issue arose at a major air hub in California.
On Monday, August 15, news outlets reported that 150 individuals walked off-site during their work day at an Amazon facility in San Bernardino, California, citing dissatisfaction with their pay and concerns about potential dangers related to excessive heat, according to reports from organizers. Those involved were reportedly independently organized as Inland Empire Amazon Workers United.
Amazon officials dispute the number of participants who walked out, claiming only around 74 people left their posts. The facility employs around 1,500 workers altogether. This was the first organized walkout of its kind at the California facility, which dispatches packages around the United States on Amazon Prime-branded airplanes.
Amazon workers walked out over pay, safety concerns at major California air hub https://t.co/XHGvV2sjAe

— CNBC (@CNBC) August 16, 2022
Those who took part in the demonstration cite low wages, inflation, and poor working conditions as the reasons for the action. This incident comes alongside a nationwide push for Amazon to allow its workers to unionize and to institute a basic pay rate of $22 an hour. The Washington Post reported that employees at a Staten Island, New York, facility recently voted to form the first American union within the company, though Amazon executives have mounted a legal challenge to the move.
According to a report from CBS News, Amazon isn't the only one whose employees are dissatisfied. Workers across the country are reportedly strained to the point of pushing for better work conditions and wages. Earlier this week, around 15,000 nurses in Minnesota voted in favor of going on strike.
Copyright 2022, RepublicanReport.org