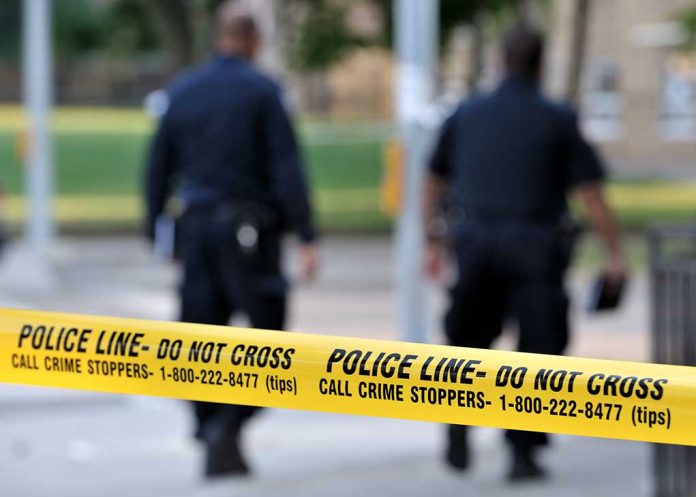 (RepublicanReport.org) – The Department of Justice started prosecuting hate crimes after the passage of the Civil Rights Act of 1968. Title I of that bill was codified in 18 U.S. Code § 245, making it illegal to willfully intimidate, injure, or interfere with anyone based on national origin, religion, race, or color. The DOJ recently launched a federal hate crime investigation in the wake of another mass shooting.
On August 26, media outlets exploded with news reports that a white man, later identified as Ryan Christopher Palmeter, 21, wearing a tactical vest, shot and killed three black people at a Jacksonville, Florida, Dollar General Store before killing himself. Later that evening, Jacksonville Sheriff T.K. Waters held a press conference to provide details to the public.
Water told reporters that the shooter carried out his deadly assault using a Glock and an "AR-15 style" assault rifle emblazoned with swastikas. The sheriff said investigators believed the shooter left behind a manifesto containing racial slurs. He also confirmed his belief that the gunman "hated Black people."
Statement from @FBIJacksonville regarding shooting at Dollar General in Jacksonville, Florida on August 26, 2023 pic.twitter.com/bifivStB2R

— FBI Jacksonville (@FBIJacksonville) August 27, 2023
FBI Special Agent in Charge Sherri Onks posted a statement about the shooting shortly after the press conference. She confirmed federal officials opened a civil rights investigation and would pursue the incident under federal hate crimes statutes.
On August 27, Waters held another press conference to provide updated information on the investigation. Chillingly, he told reporters that the suspect stopped at Edward Waters University in a gray Honda Element at 12:48 p.m. A student notified campus security after observing Palmeter donning a bulletproof vest. The officer parked his vehicle in the same parking lot, and the shooter immediately got back in his car and drove away, exiting the campus at 12:58.
Ten minutes later, Palmeter shot the first victim, Angela Carr, 52, while she sat in her car in the Dollar General Parking lot.
The shooter quickly entered the store and fatally shot his second victim, Anolt Joseph "AJ" Laguerre Jr., 19. His third victim, Jerrald Gallion, 29, entered the Dollar General seconds later, and the gunman shot him to death. Roughly 10 minutes later, law enforcement officers heard a gunshot, presumed to be the one Palmeter used to kill himself.
Copyright 2023, RepublicanReport.org