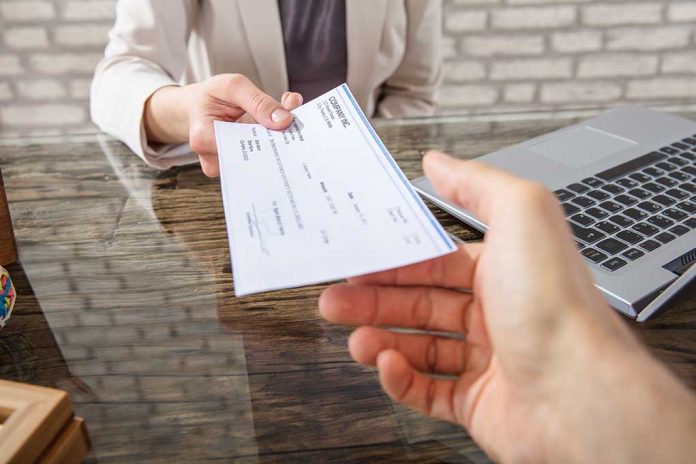 (RepublicanReport.org) – Inflation has been a real issue over the last year, with people having to change their spending habits to reflect the increasing prices. While they are cutting back on their expenses in some places, many have turned to credit as a means of bridging the gap — which creates an entirely new issue.
60% of Americans live paycheck to paycheck. 'Inflation is part of their everyday lives,' expert says https://t.co/mHqfrpepZl

— CNBC (@CNBC) February 28, 2023
CNBC recently reported that a new survey from LendingClub shows that consumer spending is still growing but at a slower rate than it was a year ago. The slowdown provides Americans with some breathing room in their budgets. However, research indicates that as of January, 60% of US adults — including 45% with high incomes — live paycheck to paycheck. Although this percentage is significant, it has decreased from 64% a year ago.
The financial health officer at LendingClub, Anuj Nayar, claimed that consumers are actively changing their behavior to adjust their spending and better manage their cash flow. In short, they're accepting that inflation is here to stay and finding ways around the issue. But it might not be the best solution.
According to TransUnion, more people are using credit cards to make ends meet as costs rise. At the end of 2022, credit card debt reached a record $930.6 billion, an increase of 18.5% from the previous year. That's not all. The Federal Reserve Bank of New York found that total household debt climbed by 2.4% as well, meaning more Americans are going into debt simply because things cost too much.
Financial experts have said that it's important to "get disciplined" and have suggested ways to do so. For example, doing away with one-click spending habits is a starting point. With elevated grocery prices — food costs increased overall by 9.9% in 2022 — meal planning can help cut down on buying extras. By making smart decisions, it can help alleviate the strain on people already living close to their means.
Copyright 2023, RepublicanReport.org