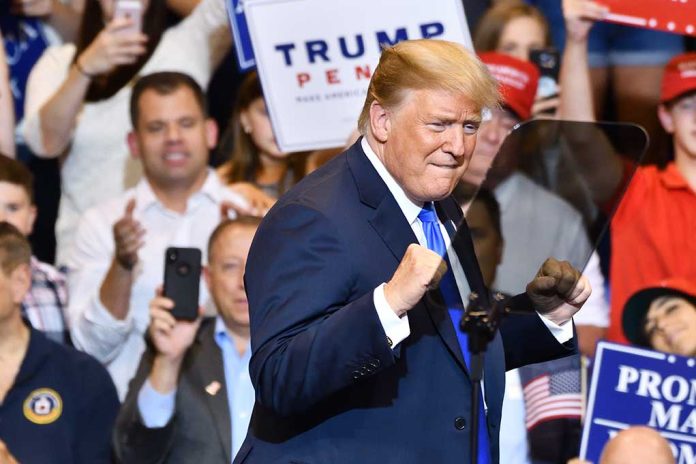 (RepublicanReport.org) – It's been more than two months since former President Donald Trump announced he was running for the White House again. However, much like his campaign thus far, the support for him is slowly rolling in. After the 2022 midterms and likely one of the most disappointing cycles for the GOP, two senators threw their support behind the former commander-in-chief bid. Now, he's looking to double his support in the Upper Chamber of Congress as two more senators consider endorsing him.
Returning the Favor
Senators Tommy Tuberville (R-AL) and Lindsey Graham (R-SC) have thrown their support behind the former commander-in-chief since the 2022 midterms, despite many of Trump's candidates failing to deliver decisive wins in Nevada, Pennsylvania, Georgia, and across the country. Two of the candidates the former president endorsed in these elections went on to win their respective races and are now looking to return the favor.
According to POLITICO, Senators JD Vance (R-OH) and Eric Schmitt (R-MO). The latter claims that Trump is popular in his state, noting the former POTUS has garnished a lot of support from Missourians, adding that he's endorsing Trump. The Ohio Republican, on the other hand, stopped short of throwing his support behind the 45th president, at least for now. Vance has reportedly discussed the possibility of endorsing Trump with those close to him for the past couple of months, saying that he anticipates doing so.
Changing Tides
A lot has changed since Trump took his oath of office and subsequently lost the White House. The former president has been impeached twice, and his supporters stormed the Capitol on January 6 to protest the results of the 2020 election.
There have been other potential signs of his influence slipping away. His 2024 campaign has gotten off to a slow start, with him recently holding the first events in New Hampshire and South Carolina.
Four endorsements from the Upper Chamber of Congress is certainly a good sign for the former commander-in-chief, but it's still nothing compared to the support he enjoyed in 2020 when he was a sitting president seeking reelection. While his 2024 campaign seems to be inching by, Senator Tuberville believes it's by design.
The Alabama Republican mentioned speaking with the former president recently, claiming Trump said his campaign was holding small events early to build momentum and construct its teams in each state. Tuberville isn't concerned, but admitted it would be disappointing not to have more support come summertime.
While House Republicans have been quick to endorse Trump, those in the Senate have not. Some believe it's time to move on from the 45th POTUS and bring in some fresh faces. Despite not mentioning running for the White House, Florida Governor Ron DeSantis (R) has become a favorite among the GOP and is a potential rival for Trump. Former South Carolina Governor Nikki Haley is also expected to announce a run.
Copyright 2023, RepublicanReport.org